By using innovative formulation, this nano-tech bike cleaner is an exceptionally powerful and outstandingly safe mountain bike cleaner chemical that quickly dislodges mud, dirt, grime, and traffic film with much less effort needed on your part and a better result!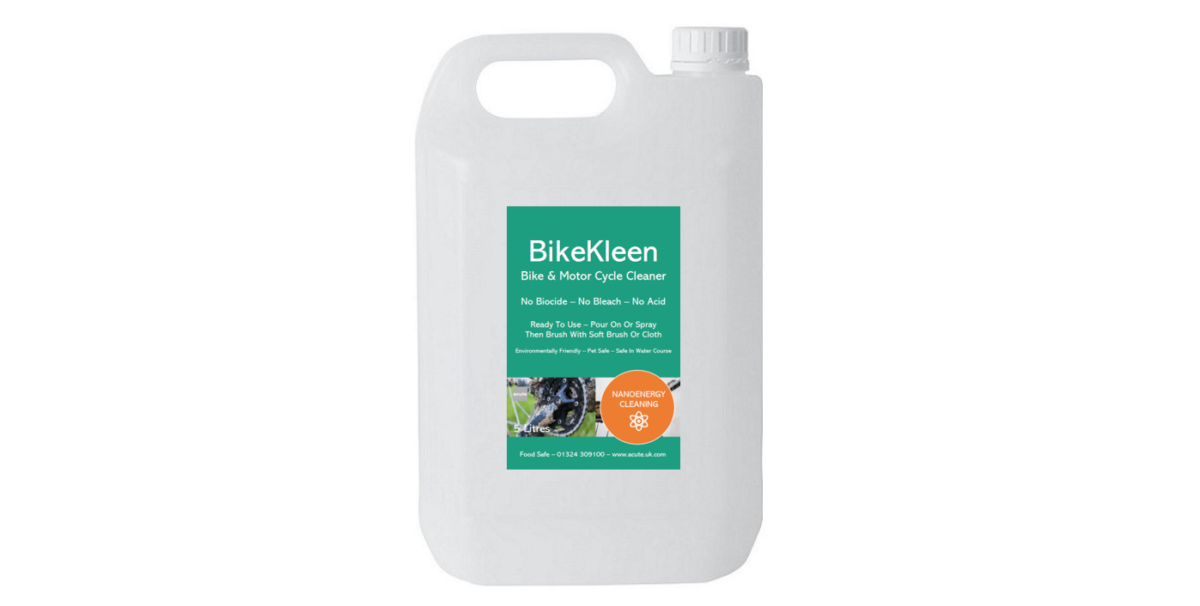 Made in the UK from all natural ingredients, this non-hazardous and non-toxic environmentally friendly motorcycle foam cleaner is even safe if discharged into a water course or drains and is safe for use near pets.
Fast And Powerful Cleaning
The nano energy packages within BikeKleen nano-tech bike cleaner solution works fast to cut into soiling, grime and muck to break the surface tension holding dirt on to your bike's frame and rims.
Also used as a high-performance motorcycle foam cleaner, BikeKleen must be experienced to believed so why not consider using this low-cost bike cleaner for yourself?
We deliver UK-wide and a 5-litre jerrycan costs just £20.00 + VAT and carriage. Cleaning of frames, chain rings, pedals, cranks, derailleur, and mud guards is easier at home, at the office, or in the field with this bike cleaner.
Dirt, oil stains, and traffic film are quickly loosened off no matter how heavy the soiling, and a rinse with a hose reveals your mountain bike or motorcycle looking at its best without damaging the environment.

Safe And Eco-Friendly
Many automotive cleaning chemicals use acids or alkalis whereas BikeKleen is pH neutral and contains no acids, no bleach, and no alkalis. It is a remarkable motorcycle foam cleaner which combines high performance, high safety, and low risk.
Safe for you, for pets, safe in water, sceptic tanks and bio digesters, for use near plants and lawns, and food-safe.

You can download the BikeKleen SDS data sheet here.
If you wish to discuss how this bike cleaner could help, then please do get in touch on 01324 309100.
Instructions For Use:
For the best results please do not dilute this product and follow this step-by-step instructions:
Brush off loose debris from bike's frame and mud guards.
Apply to areas of soiling generously from a sprayer.
Brush and agitate, you should see the dirt start to colour the foam.
Rinse off the areas treated with a hose or pressure washer.
Please contact us on info@acute.uk.com for more information!
https://auriel-power.com/wp-content/uploads/2020/10/Auriel-Logo-With-Suround-300x110.png
0
0
admin
https://auriel-power.com/wp-content/uploads/2020/10/Auriel-Logo-With-Suround-300x110.png
admin
2021-10-20 16:04:12
2022-04-20 16:07:04
Nano-Tech Bike Cleaner